Skip Navigation
Website Accessibility
INNOVA AutoPilot® Mach 3
The AutoPilot Mach 3 Computerized System Is Innova Longarm's Exclusive Robotic Longarm System. Regardless If You Are Quilting Edge To Edge Patterns For Efficiency, Or Precision Heirloom Quilting, AutoPilot Has The Tools Necessary To Work Precisely And Efficiently. Each Tool Has A Built In Help Menu For Quick Learning And Reminders. Options Can Be Hidden When They Are Not Needed, Making The Screen Sleek And Easy To Use. Exclusive Lightning Stitch Integration Pairs The World's Best Stitch Regulator With Controls Literally At Your Fingertips. Steel Reinforced Belts And A Quick Release System Ensures That You Will Have Precise Computerized Stitching And A Fast Simple Switch To Easily To Shift To Beautiful Hand Guided Quilting.
INNOVA's Premiere Computerized Quilting System Sets The Benchmark For The Industry And Is Technologically More Advanced Than Any Other System On The Market.
Key Features Include But Are Not Limited To:


Resize, Rotate, Flip, Mirror
Trim
Boundaries
Morph
Draw, Text, Advanced draw tools including anchor and line edit capabilities.
Crosshatch
Mask
Wreath
Align
AutoFit
Create Segments, Divide, Join
Edge to Edge
Echo
End Snap
Group, Attach, Link
PushPins
Advanced settings and options for all tools and features
Use any .dxf or .pat file
View your pattern library with over 600 pre loaded patterns.
Categorize patterns by tags.
Easily search for patterns
Preview designs with the pattern pad.
Adjust Drive settings with ease.
View Machine Diagnostics.
Control System Settings. .
Modify Lightning Stitch Settings
All Innova longarms come with Boot Camp- an Intensive 3 day training that will help you master all the skills you need to be successful in longarming. 3 quilts in 3 days means lots of hands on practice and plenty of time using INNOVA longarms.
AutoPilot longarms have so much more power built in...so we include an extra day of custom quilting training. Each student leaves class with the ability to create custom designed wholecloth quilts like the one pictured here.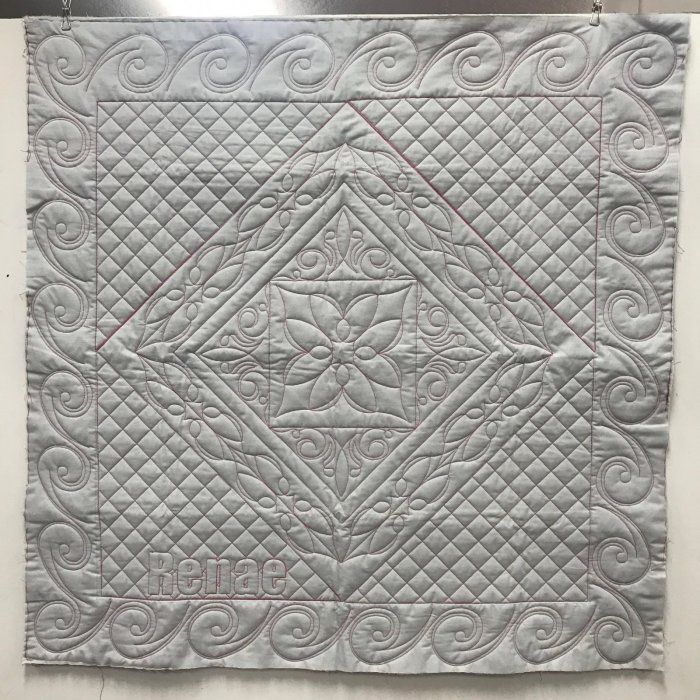 Watch the Innova with AutoPilot Mach 3 stitch over these layers perfectly. Even we were amazed!
Want to try it out for yourself?
*Free 14 Day Trial For AutoPilot™ Simulator*
1st: Get your serial number by clicking here, fill out the form and hit the SUBMIT button.
Your serial number will arrive in the email you provided. Check your junk folder if you don't see it right away.
2nd: Download the AutoPilot Mach 3 Simulator Free Trial Version here.
You will need a minimum of Windows 8 pro 64bit.
Follow the prompts to install and activate with your provided serial number.
If you get a message saying MSFT Defender is protecting your computer, click more, run anyway.
Enjoy your AutoPilot™ Mach 3 Simulator Free Trial Version for 14 days, then contact your local INNOVA dealer to order your new AutoPilot™ Mach 3 INNOVA and enjoy all the benefits!
Disclaimer
License and Disclaimer of Warranty Information By downloading, wiring to or using the AutoPilot Simulator program and hardware, you acknowledge acceptance of the following DISCLAIMER OF WARRANTY: DISCLAIMER OF WARRANTY ALL THE COMPUTER PROGRAMS AND SOFTWARE ARE SOLD "AS IS" WITHOUT WARRANTY OF ANY KIND. WE MAKE NO WARRANTIES, EXPRESS OR IMPLIED, THAT THEY ARE FREE OF ERROR, OR ARE CONSISTENT WITH ANY PARTICULAR STANDARD OF MERCHANTABILITY, OR THAT THEY WILL MEET YOUR REQUIREMENTS FOR ANY PARTICULAR APPLICATION. THEY SHOULD NOT BE RELIED ON FOR SOLVING A PROBLEM WHOSE INCORRECT SOLUTION COULD RESULT IN INJURY TO A PERSON OR LOSS OF PROPERTY. IF YOU DO USE THEM IN SUCH A MANNER, IT IS AT YOUR OWN RISK. THE AUTHOR AND PUBLISHER DISCLAIM ALL LIABILITY FOR DIRECT, INDIRECT, OR CONSEQUENTIAL DAMAGES RESULTING FROM YOUR USE OF THE PROGRAMS OR FROM CONNECTING IT TO YOUR MACHINE.
The computer programs AutoPilot™ Simulator are Copyright © 2019 of Neal A. Schwarzberger and ABM International, Inc.. AutoPilot™ Simulator is a trademark of ABM International, Inc. AutoPilot™ Simulator is a proprietary product, its concept, design and functionality are Property of ABM International, Inc.